Integrative Psychiatry Clinic in Boulder, CO
Integrative psychiatry is available today at Delos Psychiatry, so book your appointment now! To consult our psychiatrists,

call us

or schedule an

appointment online

. We are conveniently located at

2501 Walnut St. Suite 204 Boulder, CO 80302

.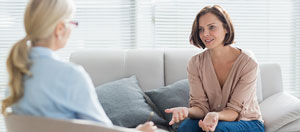 Table of Contents:
What does Integrative Psychiatry involve?
What are the benefits of seeing an Integrative Psychiatrist?
What can I expect on my first visit?
What mental health disorders do Integrative Psychiatrists treat?
What does Integrative Psychiatry involve?

Integrative psychiatry uses conventional therapies alongside complementary therapies in a holistic approach to treating psychiatric disorders. Individuals can expect to receive custom treatments best suited to each patient's lifestyle, needs, and goals. Integrative psychiatry gives patients the tools and resources, they need for self-care and bolsters their self-awareness.

There are various different types of integrative psychiatry treatments, each well-suited to different patients. Mind-body centering exercise may be used to increase relaxation, as well as gentle bodywork. Eye movement reprocessing and desensitization can be used.

An overall nutritional assessment of each individual's general health and wellbeing, their needs, and how best to address them in a holistic manner through exercise, diets, and/or supplements will also be determined.
What are the benefits of seeing an Integrative Psychiatrist?

Integrative psychiatry can be a hugely beneficial treatment option for psychiatric disorders, and it is an especially intriguing option for individuals who want to take a holistic approach to their healing. Individuals who are aiming to take responsibility and control for their wellness by acknowledging and managing the effects their social interactions, emotions, lifestyles, and overall health are having on them.

Individuals who haven't responded effectively to traditional treatment or have a particular aversion to medication.

By utilizing traditional therapy components harmoniously with holistic complementary approaches integrative psychiatry offers a host of benefits. The benefits overall health and wellness can have on mental health conditions are well-documented.

Incorporating physical wellness changes such as healing foods and nutritional supplements has a beneficial effect on mental wellness as well.

Patients will learn strategies, routines, and things they can do outside of their integrative psychiatry appointment that will help them manage their condition and not allow it to control their life. The incorporation of traditional therapy such as behavioral therapy ensures patients will also receive the benefits of traditional mental health care.
What can I expect on my first visit?

During their first visit to an integrative psychiatry clinic, patients should prepare to discuss their concerns and goals with their physician. The medical professional will work with the patient in order to establish which treatment plan best suits their individual needs.

The physician will take typical information including the symptoms, family and medical history, and more. For the integrative component, the physician assesses core imbalances in the lifestyle, body, and mind and endeavors to determine which areas need work while isolating and identifying the root causes of the patient's symptoms.

Following the diagnosis and the identification of the condition's root causes various treatments may be utilized such as talk therapy, behavioral therapy, dietary changes, supplements, recommended lifestyle routine changes, and more. Integrative psychiatry endeavors to treat every element of the body and mind to promote recovery and wellness and does so with a treatment plan tailored to each patient's set of needs.
What mental health disorders do Integrative Psychiatrists treat?

Integrative psychiatrists treat a variety of mental health disorders. Integrative psychiatry assesses, diagnoses, and treats the root cause of mental health disorders and analyzes it from an expanded spectrum of potential sources through a holistic approach considering the mind, body, and overall wellness.

Most individuals with mental health disorders can benefit from integrative psychiatry including those with depression, post-traumatic stress disorders, anxiety, phobias, perimenopausal symptoms, and more. Integrative psychiatry can be an excellent option for anyone seeking to improve their mental health and overall wellness.

And for individuals for whom other forms of therapy haven't yet worked integrative psychiatry is a terrific option maintaining the foundational benefits of traditional therapy and offering something different as well.  Services at Delos are available for the latest innovations in integrative psychiatry. Contact us through our website today and let us help you reach your goals on your mental wellness journey. For more information, call us or schedule an appointment online. We are conveniently located at 2501 Walnut St. Suite 204 Boulder, CO 80302. We serve patients from Boulder CO, Denver CO, Silverthorne CO, Longmont CO, Superior CO, Lafayette CO, Broomfield CO, Erie CO, and Niwot CO.