Life Coaching Specialist in Boulder, CO
Do you feel worried about your current life situation and future goals? If yes, you might need a life coach at your disposal. A life coach helps you to explore your strengths and weaknesses and how you can benefit from them. With

Dr. Ari Aal

at Delos Psychiatry, discover the benefits of life coaching today. Dr. Aal is a Denver native and Psychiatrist with an interest in novel and Avante Garde treatments. He focuses on difficult-to-treat cases that have not responded to previous treatment. To consult our psychiatrists,

contact us

or schedule an

appointment online

. We are conveniently located at

2501 Walnut St. Suite 204 Boulder, CO 80302

.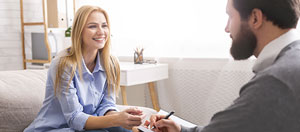 Table of Contents:
What does a life coach do?
What are the benefits of life coaching?
What problems do life coaches help with?
What strategies do life coaches use?
What does a life coach do?

A life coach is a wellness specialist who assists people in making progress in their lives, meeting important goals, improving relationships and careers, and achieving fulfillment. Life coaches begin by clarifying your major life goals and identifying potential obstacles. Next, a life coach will create strategies to overcome each obstacle and reach your goals. Working with a life coach will help you change the direction of your life, experience continuous growth, and embark on a journey of self-discovery, self-love, and self-confidence. 
What are the benefits of life coaching?

Working with a life coach is very beneficial as it can help you improve your habits and achieve long-term goals. Some of the benefits you may notice after working with a life coach include:

⦁ Improved work performance 
⦁ Improved focus and productivity 
⦁ Improved stress and time management
⦁ Improved collaborative and communication skills
⦁ Improved work-life balance 
⦁ Improved resiliency
⦁ Improved self-care 
⦁ Increased mental clarity
⦁ Increased engagement 
⦁ Better hygiene and sleep
⦁ Ability to navigate uncertainty and change
⦁ Ability to navigate grief and loss
⦁ Stronger relationships 
⦁ Healthier habits

Overall, working with a life coach brings countless benefits which can be observed in your personal and professional life. At Delos Psychiatry, our specialists will help you strive to live your best life and overcome any obstacles in your way.
What problems do life coaches help with?

Life coaches are equipped to support you through many different challenges and can help you reach a variety of goals. Some of the challenges that a life coach can help with include:

⦁ Overcoming chronic stress
⦁ Overcoming mental illnesses such as depression
⦁ Overcoming self-esteem issues
⦁ Setting and achieving healthy goals
⦁ Establishing a purpose in life
⦁ Forming healthy relationships
⦁ Maintaining relationships
⦁ Setting career goals

In addition to the above challenges, life coaches can with you overcome major life events such as:

⦁ Marriage or divorce 
⦁ Grief and loss
⦁ Changing career paths
⦁ Major injury or illness
⦁ Relocation
⦁ Job loss

Life coaches can support you through a variety of challenges and major life events. The life coaches at Delos Psychiatry are here for you at any stage in your journey. 
What strategies do life coaches use?

To help you reach your goals and overcome challenges, life coaches use a variety of techniques and strategies. Common strategies used by life coaches include:

1. Goal Setting – Setting goals is a fundamental skill that provides you with clarity, direction, and purpose. A life coach will support you in setting realistic, healthy, and measurable goals.

2. Visualization – This technique is useful for providing a clear vision of what you want your life to look like after working with a life coach. Visualization allows you to remove yourself from your current reality and motivates you to work towards your life goals. 

3. Self Discovery – Through a series of exercises and open-ended questions, a life coach can support you by assisting in self-discovery and identification of personal values. This technique is highly effective in mitigating unnecessary stress and becoming more aware of personal desires, values, and goals.

4. Success Planning – This strategy is highly useful for setting and maintaining structure, improving time management, and decreasing stress. Your life coach will work with you to establish your plan and supplement your progress through regular check-ins. 

5. Communication Skills – Communication is crucial to building and maintaining relationships, setting boundaries, and managing expectations. Life coaches provide fundamental skills for developing communication and relationship skills.

6. Thought Refocusing – Life coaches assist in shifting our mindset and breaking unhealthy emotional habits. By practicing shifting thoughts and emotions to positive aspects, you can achieve your goals easier and manage your stress. 

7. Appreciation and Gratitude – Through gratitude, you can achieve a more positive mindset and gain a greater appreciation for your life. Your life coach will equip you with strategies to experience higher levels of joy and gratitude. 

Through a variety of techniques, your life coach can empower you to become the happiest and healthiest version of yourself. The life coaches at Delos Psychiatry provide top-quality service and life-changing strategies to help you grow and prosper. For more information, contact us or schedule an appointment online. We are conveniently located at 2501 Walnut St. Suite 204 Boulder, CO 80302. We serve patients from Boulder CO, Denver CO, Silverthorne CO, Longmont CO, Superior CO, Lafayette CO, Broomfield CO, Erie CO, and Niwot CO.